---
Home | Products | Sprayers | Kits | Wholesale | Contact us | Login | View cart
DUSTY U
U N I V E R S I T Y
Current course offerings
Basic facts
Coverage expectations
Removal options
Other uses.
Other interesting stories on dust
Feel free to recommend a course you would like to see. Contact customer service anytime.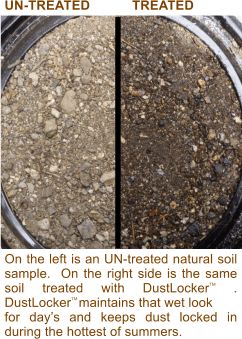 View Hi Resolution Sample
Basic facts
DustLocker™ is an all natural dust suppressant with a ph of water. DustLocker™ can be applied anywhere you would apply water based dust suppression procedures. For best results insure DustLocker™ is applied as directed. Concentrated formulas allow you to create thicker mixes depending on site sloping and runoff characteristics. See coverage expectations for more help. DustLocker™ will naturally degrade over time with rain and traffic use for road based applications.
Coverage expectations
DustLocker™ is flexible in coverage amounts, given a particular areas given uses. Areas with absorbent sandy soils will require additional coats to achieve desired results.
Areas with high foot and or vehicle traffic will require heavier coating.
| | | | |
| --- | --- | --- | --- |
| PRODUCT | MEDIUM | ESTIMATED COVERAGE EXPECTATIONS | TRAFFIC |
| | | | |
| DustLocker ™ 1 gallon | SAND/DUST | 80'x80' | NONE |
| | SAND/DUST | 40'x40' | LIGHT |
| | SAND/DUST | 20'x20' | HEAVY |
HOW TO UNLOCK
Removal options
DustLocker™ is removed naturally, by mother nature during a good rain, or can be safely diluted and rinsed away with simple water.
DustLocker™ is non toxic and safe for rivers streams, plants and animals.

Other uses
DustLocker™ can be used to bind a variety of materials
Saw dust
Clay
Crushed rock
Sands
Fabrics
Seeds
JULY FOURTH STARS
In this picture dried beach sand is
mixed with a little DustLocker™ then
put into a mold and dried.

PLEASE Send us your samples
What other uses have you found for DustLocker™ ?


Interesting stories on dust
China sandstorm leaves Beijing shrouded in orange dust
http://news.bbc.co.uk/2/hi/asia-pacific/8577806.stm


Dust storm migration begins in China
http://news.bbc.co.uk/2/hi/asia-pacific/4103059.stm


China battles against sand invasion
http://news.bbc.co.uk/2/hi/asia-pacific/778325.stm
ORDER A DO IT YOURSELF KIT!
RETURN HOME ->
---
Legal | Privacy | Brochure | Products | Equipment | Sell at your store | International

© 2023 LiquidPlow Inc, llc UDP.
A 3m Subsidiary International Company.